GENERAL INFORMATION
THREAD CONTOUR
CLASSES OF ACCURACY
TYPES OF NUTS
FOP AVIA S.A.
Established in 1902 as a machine and equipment manufacturer, AVIA S.A. Precision Machine Tool Factory For over 55 years, it has been producing high accuracy machine tools. And since 1970, also precise ball screws.
Our offer includes high-pitch ball screw used in modern high feed rate machine tools including High Speed types. Ball screws are produced in an air-conditioned hall, using modern CNC machine tools for threading, as well as specialized measuring devices – which allows to obtain particularly high quality production.
All standard ball screws are made in two accuracy classes 3 and 5.
The ball screws are made of high quality steel alloys, induction hardened and precision ground. We have specialist stations for pitch, torque and thread profile control. Standard ball screws produced by FOP AVIA S.A. are made with flange nuts or cylindrical nuts. On screws, we install single nuts with axial backlash or preload as well as double nuts.
We also make nuts with unusual shapes according to the customer's requirements. The customer has a choice of the type of nut. The standard execution of the pitch of the screw is metric, but at the client's request we realize the inch lead.
Ball screw designs are constantly being improved taking into account the wishes of customers. The CAD system is used in construction works. The ball screws journals are made in accordance with customer drawings. In addition, we offer repair and regeneration of ball screws, and the production of special gears made according to the customer's design.
GENERAL INFORMATION
The ball screws have evolved from conventional screws by inserting rolling elements (bearing balls) between the bolt and nut. As a result of replacing sliding friction with rolling friction, rolling screws have a number of advantages, thanks to which they have found wide application in mechanisms requiring: high efficiency
work w/o backlash
high axial rigidity
high durability
In particular, ball screws are used as drive and measuring elements in numerically controlled machine tools, in the precision industry as part of measuring assemblies, in the aviation industry and in many other branches of industry. Ball screws are manufactured from high quality materials. As a result of balls rolling in hardened grooves of bolts and nuts, the wear is very small, which eliminates the need to compensate for the backlash and ensures that the accuracy of the pitch is maintained over the entire lifetime. The use of nuts with preload allows to obtain backlash-free work and a significant increase in stiffness. All standard ball screws are made in accuracy classes 3 and 5 in accordance with DIN 69051 (ISO 3408).
Thread contour and balls circulation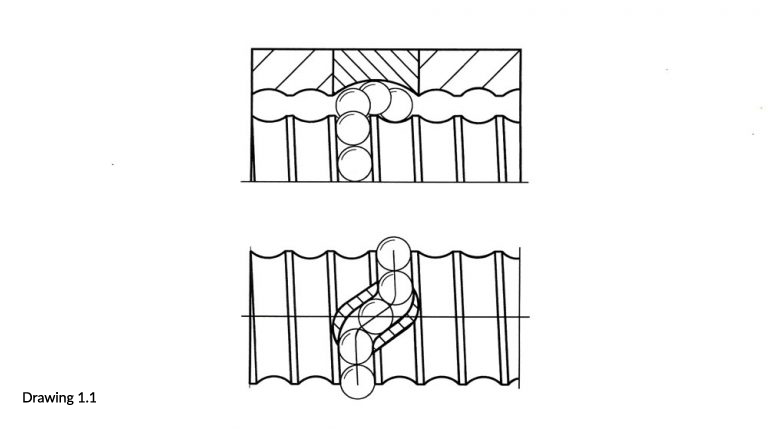 In our ball screws as standard internal circulation of balls is used (figure 1.1), in which the ball, after rolling through one turn of the nut thread, is returned to the beginning of the circulation through the channel in a special insert embedded in the nut

In FOP AVIA S.A. production a double-arched outline is used. This outline allows to obtain high stiffness while eliminating the axial clearance of the ball screw. The required rigidity of the ball screw is achieved in two ways:
By using two "compensated nuts" (two-point contour – figure 1.2)
By compensating for clearance as a result of selection of ball diameters (four-point contour, single nut – figure 1.3)
The initial preload should only be as high as necessary and as small as possible. The operating load up to three times the pre-tension value does not cause "loosening" (preload drop to zero).
CLASSES OF ACCURACY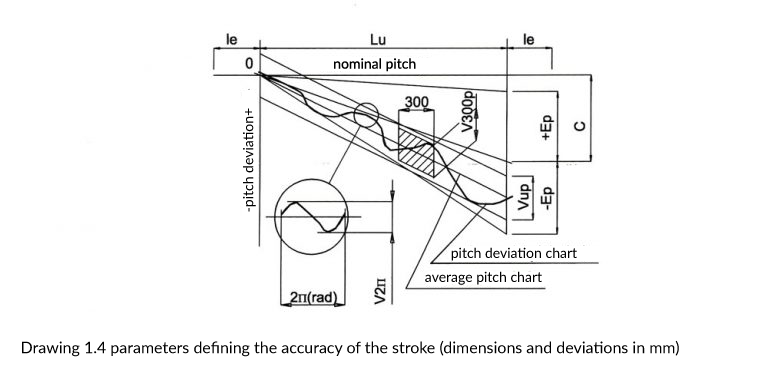 Lu – Useful travel, which is the thread length reduced by 'le' distances of non-qualified path.
C – Target deviation of mean lead line from nominal lead within 'Lu' length.
Ep – Maximum deviation of mean lead line from target line.
Vup – Maximum width of lead deviations over the travel length.
V300p – Real width of lead deviations over the length of 300 mm.
V2π- Real width of lead deviations for one revolution of the screw.
Target deviation C should be given in the Purchase Order. Otherwise, C = 0 is assumed.
The lead measurements are taken at temperature 293K (20C).

CLASSES OF ACCURACY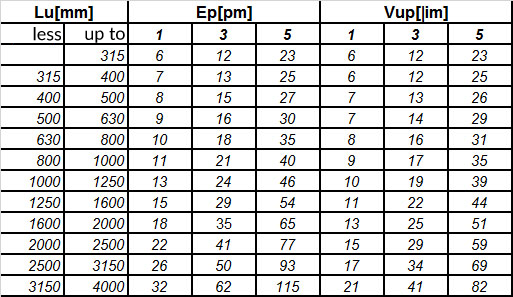 Table 1 Acceptable values of Vup and Ep depending on the useful length Lu and accuracy classes.



Table 2



Table 3. International Standard of ball screws Accuracy Classes
BASIC VALUES OF BALL SCREWS (dimensions in mm)
FOP "AVIA" SA. manufactures ball screws in the scope of:
nominal diameters up to = 16 ÷ 80 mm
pitch p = 4 ÷ 20 mm
total screw length up to 3300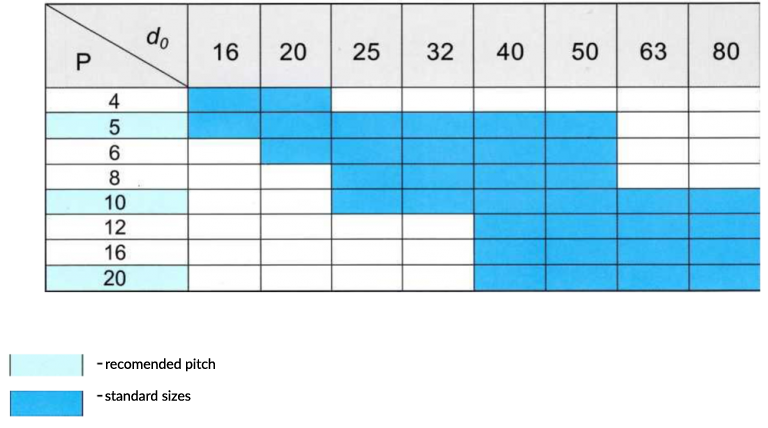 Table 4
STEEL GRADES USED IN FOP AVIA S.A. BALL SCREWS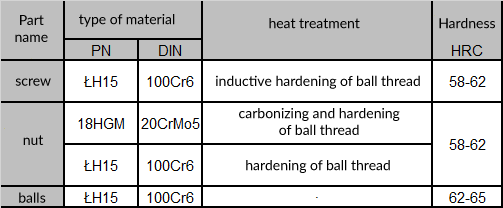 TYPES OF NUTS IN FOP AVIA S.A. PRODUCTION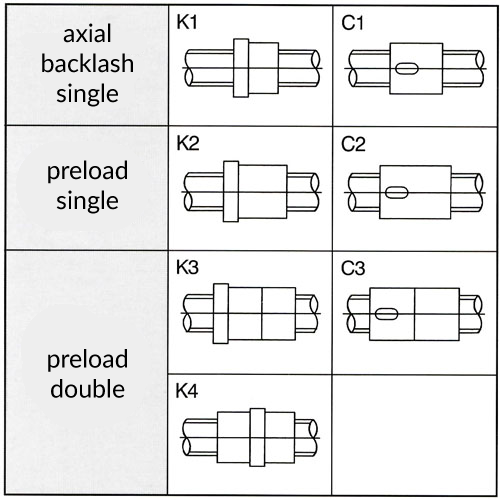 Complete ball screw assembly code